Turcon® Glyd Ring® Hydraulic Piston Seal
Featured Product from Trelleborg Sealing Solutions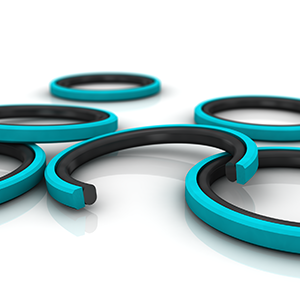 Successfully used for decades, the Turcon® Glyd Ring® by Trelleborg Sealing Solutions is a very effective and reliable low friction seal. It is particularly suitable as a piston seal in both high and low pressure systems.
The double-acting Turcon® Glyd Ring® is a combination of a Turcon®-based slipper seal and an energizing O-Ring. It is produced with an interference fit, which together with the squeeze of the O-Ring ensures a good sealing effect even at low pressure. At higher system pressures, the O-Ring is energized by the fluid, pushing the Turcon® Glyd Ring® against the sealing face with increased force.
The geometry of the Turcon® Glyd Ring® ensures a good static sealing and allows the lubricating hydrodynamic oil film to build under the seal in reciprocating applications. Since the installation groove is identical to that of other seals, the Turcon® Glyd Ring® is ideal for the standardization of cylinder construction if efficient and low cost seal elements are demanded in large quantities and the cylinder can be adapted to meet different operating conditions.
Advantages
No stick-slip effect when starting for smooth operation
Minimum static and dynamic friction coefficient for minimum energy loss and lower operating temperature
Suitable for non-lubricating fluids depending on seal material for optimum design flexibility
High wear resistance ensures long service life
No adhesive effect to the mating surface during long periods of inactivity or storage
Suitable for most hydraulic fluids in relation to most modern hardware materials and surface finishes depending on material selected
Suitable for new environmentally safe hydraulic fluids
Available for all cylinder diameters up to 106 inches (2,700mm)
Application Examples
Over several decades, the Turcon® Glyd Ring® has been successfully implemented as a double-acting piston seal for hydraulic components. Examples include
Mobile hydraulics
Machine tools
Injection molding machines
Presses
Valves for hydraulic & pneumatic circuits
Visit our website or view the catalog to explore the features and benefits of Turcon® Glyd Ring®, then contact us to learn how to put Trelleborg Sealing Solutions to work for you.