Electric Furnaces for Annealing
Product Announcement from Trent, Inc.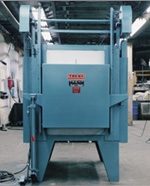 TRENT furnaces are carefully engineered, refined and tested to meet today's exacting industrial requirements. The highly efficient F&F® heating elements provide better temperature uniformity, closer control, and greater flexibility, thus reducing costs and improving production rates. TRENT furnace designs are practical and economical, requiring little or no maintenance. Our standard furnace designs, whether box, pit, or bell-type, with or without forced air circulation, can be modified to fit your needs. The three basic batch type electric furnaces are:
BOX - used in the metal trades for hardening and annealing, the ceramic industry for firing, the glass industry for annealing and by chemical producers for processing.
AIR CIRCULATION - used much like the box type , but having the added feature of air recirculation to produce better heat uniformity in the working chamber.
SALT BATH - for carburizing, hardening and tempering.
---