Folded and Formed® Racks
Product Announcement from Trent, Inc.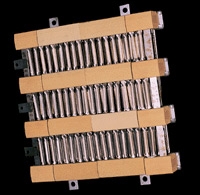 TRENT standard F&F® Heater Racks with exclusive Folded and Formed® nickel-chrome Heating Elements radiate optimum heat at low watt density. Within aluminized or alloy steel frame, supported by high-grade refractory porcelain, these ribbon elements provide heat more readily and over a wider area than other elements.
This means more heat, faster and with less energy expended. They also allow faster cooling to prolong element life. These benefits, coupled with ease of installation, make TRENT F&F® Heating Racks as economical as they are efficient.
---