Trent Electric Ovens
Product Announcement from Trent, Inc.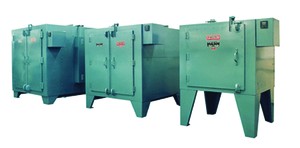 TRENT Electric Ovens come in all sizes and configurations including laboratory, warming, batch, walk-in, bell, pit, top-loading, and conveyor with maximum temperature ranges from 400° to 1400°F, and are available in three basic designs:
RADIANT HEAT - This design provides direct radiation of the heat from exposed heating elements. The least expensive method for applications where temperature uniformity is not a consideration.
GRAVITY CONVECTION - Creates more uniform temperatures in the oven because the heating elements are placed behind baffles to heat the natural air flowing within the chamber, creating a chimney effect; air flow is from top to bottom.

FORCED AIR CONVECTION - Used much like the gravity convection type, but having the added feature of air recirculation to produce better heat uniformity in the working chamber.
Most models utilize the highly efficient Folded and Formed® (F&F®) heating elements to provide better temperature uniformity, closer control, and greater flexibility, thus reducing costs and improving production rates. Select a link from the side bar menu to find out more details about our specific models.

If you need our help in deciding which model would work for you, or if you would like a quote on a custom-designed oven, download our OVENS QUESTIONNAIRE, fill it out and fax it back to us.

For applications requiring higher temperatures between 1400°F and 2750°F, see our ELECTRIC FURNACES.
---