Walk-In Air Flow Oven
Product Announcement from Trent, Inc.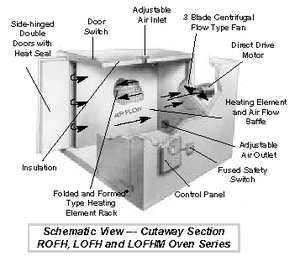 Maximum Temperature: 450°F, 650°F, 850°F
TRENT Horizontal Air Recirculation Walk-in Ovens are ideal for achieving temperature uniformity in the work chamber. The recirculating fan is located at the rear of the oven behind a baffle. The fan draws air around and through the work load horizontally with circulation from front to back. The air is then forced through ducts on both sides of the work chamber in which the TRENT Folded and Formed® heating elements are located. After passing over the heating elements, the air moved into the work chamber at the front of the oven. Walk-in ovens are rugged steel construction with blanket type mineral wool insulation in the sides and top, block type insulation in the floor and come with insulated double hinged doors for easy access to the work chamber.
STANDARD FEATURES:
• Standard parts with little or no maintenance required
• 16 gauge steel exterior for industrial applications
• Forced air circulation
• Direct drive or indirect drive fan and motor
• 11 gauge steel reinforced interior floor to support normal truck loading
• 20 gauge aluminized steel interior & air flow baffles
• Double hinged doors are fully insulated and fitted with heat seal when closed
• Explosion release door latch for secure closing
• Adjustable 6" dampers for intake and exhaust
• Mineral Wool blanket type insulation
• One to Three (3) shelf supports for versatile work space with one removable perforated shelf included
• TRENT Folded and Formed® heater racks for long life and good control
• Door switch to shut off fan and heaters when door is open
OPTIONS:
• Exhaust blowers
• Switch gear and control package
• Truck cutouts and tracks for truck loading
• Special purpose and accessories
---