Threaded Insert Manufacturing, Parts Cleaning & Laser Sorting
Service Detail from Tri-Star Industries, Inc.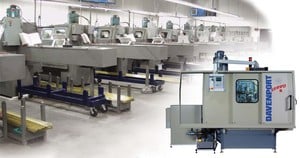 The Davenport is designed to offer a cost-effective means for high-volume production of close tolerance parts turned from a bar. Throughout the industry, the Davenport is widely considered to be the fastest, most versatile multiple-spindle automatic bar machine ever built. These machines have the capability of performing multiple machining operations within the cycle time of the machine. This capability eliminates the need for costly secondary operations. The machining capabilities and features of the Davenport include:
Material Capability

Free machining grades of Aluminum, Brass, Bronze, Copper, Carbon Steel and Stainless Steel

Bar Stock Capacity*

Round bar starting at .0937″ [2.38mm] up to .8125″ [20.64mm]
Hex bar starting at .125″ [3.18mm] up to .625″ [15.87mm]
Square bar starting at .125″ [3.18mm] up to .5625″ [13.89mm]
3 Tsugami Precision Turning Centers
Our CNC Swiss machining capabilities are ideal for manufacturing parts with complex designs, tight tolerances, unique features and high quality surface finishes. Swiss CNC machines are world renowned for their accuracy, repeatability, low tool costs, quick set-up and short lead times.
Excellence in machining complex parts from pre-production through full production runs
ID & OD Threading, Cross Drilling, Cross Tapping, End & Side Milling, Turning & Broaching
Tolerance on length: 0.0003″ to 0.0005″
Tolerance on outside diameter: 0.0003″ to 0.0005″
Tolerance on inside diameter: 0.0003″ to 0.0005″
Bar Stock: 0.118″ [3.0mm] to 0.787″ [20.0mm]
Maximum Workpiece Length: 6.690″ [170.0mm]
Micro-finish: 8 to 16 micro inch finish
Quality Assurance Equipment
Tri-Star Industries, Inc. is Registered to ISO9001:2000 (Certificate #10254)
Mitutoyo – MeasurLink SPC
Micro-Vu Optical Comparator (10x, 20x) with Digital View Output
Gage Calibration System, Traceable to N.I.S.T.
Retina Laser Sorting / Inspection Equipment
Retina Vision Sorting / Inspection Equipment
Jenfab® Aqueous Parts Cleaning System
Parts Cleaning: A state-of-the-art, environmentally friendly, aqueous parts washing system cleans and dries all components manufactured at Tri-Star Industries. The computer-controlled system employs agitation, rotation, submersion, jet-spray and ultrasonic cleaning methods. Components are housed in stainless steel mesh baskets specifically designed to allow the parts to tumble during the cycle time. The system and the baskets allow for an extraordinary flow of fluids to flush the parts clean of cutting fluids, metal turnings and debris. A seven-chamber dryer assures that the parts are free of any and all moisture.
Subcontacted Services
Tri-Star Industries, Inc. maintains an Approved Vendor List for the services noted. Additionally, vendors are subject to periodic audits by authorized Tri-Star personnel.
Plating
Heat Treating
Grinding
Secondary Operations
Testing