CJ Bearings Support Offshore Drilling Spoolers
Product Announcement from TriStar Plastics Corp.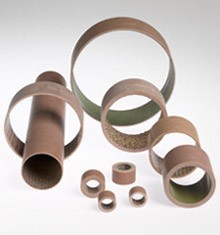 As restoration efforts continue even months after the capping of the Gulf Coast oil spill, government and industry experts are demanding better monitoring and safety control of offshore drilling equipment. There is a renewed call for quality engineering and inspection of critical mining components. And our client, a major player in the design and fabrication of offshore hydraulics such as drill spoolers and winches, looks to our CJ Composite Bearings to deliver that extra level of security and durability.
"Reel" support
Our CJ Composite Bearings are located on the client's drill line spooler, a unit made of an air motor, gear reducer and roller drive. The spooler guide bar allows for controlled haul-in and out of the cable lift lines used on the drilling rigs; similar in form to a common fishing reel. The spools are subjected to incredible torque and load as they pull and wind the cables, reaching up to 8,000 lbf. Our client wanted to replace their bronze bearings, which were failing at an unacceptable rate. They cited that the bronze units had a tendency to corrode over time, and required frequent replacement. Their design engineers sought a cleaner solution; one that would enhance performance, lower regular bearing maintenance, as well as give a better overall value.
Better than bronze
After close collaboration and field testing, TriStar engineers recommended CJ Composite Bearings as a perfect fit for the spool guide bar. CJ bearings are an excellent drop-in replacement for bronze because they provide superior wear without the added expense and burden of regular lubrication. They could also handle the load, shock and vibration of an offshore drilling rig, and would not corrode, even after prolonged exposure to sea water and salt spray. CJ bearings have even built a reputation for extending the operating life of machinery. Today, our client reports CJ bearings have exceeded their expectations.
Do you have a bearing performance challenge? Ever wonder about the maintenance and cost advantages of self-lubricating bearings? Ask the Experts; we've helped clients across a range of industries, such marine, construction and agriculture find the right fit for their components.
Experience the TriStar Advantage!
---