Rulon 1439 in Pharmaceutical Application
Product Announcement from TriStar Plastics Corp.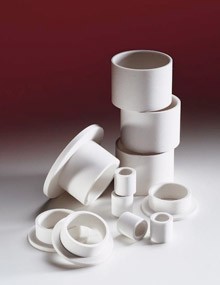 FDA-compliant bearings deliver precision agitation and sanitary processing
Boasting better wear characteristics than virtually any other PTFE compound on the market, Rulon 1439 has earned a solid reputation for durability and dependability. And now with FDA compliance, Rulon 1439 is the preferred bearing material for the high-velocity mixers used in pharmaceutical manufacturing. Rulon also receives high marks for withstanding the chemical washdowns required of this high-sanitation environment.
A steady bearing for superior blending
Our partner is a major manufacturer of alloy processors such as mixers, tanks and other vessels used to blend the raw ingredients of pharmaceutical drugs. Their mixers are used to blend the dry, active ingredients needed for drug tablets and capsules, as well as the thick syrups required of liquid medicines. Our client explained how the combination of mixing the dry abrasives and boiling liquids was causing the previous polymer steady bearings to corrode and fail. And without a secure fit to the mixing tank, the blades could not produce precise, batch-to-batch blending uniformity. Our client required a durable and secure steady bearing to improve their mixing action, as well as to maintain Good Manufacturing Practices (GMP).
Reliable mixing, self-lubrication plus sanitation
After close consultation, our experts recommended Rulon 1439 as a replacement steady bearing. Rulon bearings excel at high speeds and can withstand submersion in boiling temperatures, so they were an ideal fit for this application. The bearings are also specially-engineered for long wear, and because they are self-lubricating and do not require manual greasing, our partner is able to maintain a cleaner manufacturing environment. Rulon has also lasted the test of time by withstanding the caustic chemicals used in sanitation washdown procedures - without any moisture absorption.
Our client also noted that with Rulon 1439 steady bearings in place, they have limited shaft deflection and vibration, particularly in their deepest mixing tanks. Ultimately, Rulon 1439 has enabled our clients to improve the quality of their mixing application to deliver better product uniformity.
Have you considered Rulon for your next application challenge? Download our free Rulon White Paper to learn more, or review our Rulon Bearing Selector Guide to compare different grades. TriStar is the exclusive, North American supplier of Rulon. Contact us to see if Rulon is a good match for your application.
---