Rulon J Bearings Outperform Teflon
Product Announcement from TriStar Plastics Corp.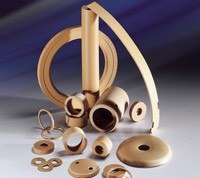 Composite rub strips now resist friction and wear
Takeoff and landings. Pressurization and depressurization. Friction and fatigue. These are just some of the challenges that aerospace bearings are subjected to. But how can aerospace designers avoid the pitfalls of wear and corrosion common to inferior bearing materials? Simply by exploring the advantages of Rulon® J, a surface-friendly material that delivers the lowest friction of any PTFE blend.
Failing to friction, wearing out
A leading maker of helicopter components approached us to improve the performance of their cowling rub strips, which were wearing out at an alarming rate. Located on the body panels of their helicopters, the virgin Teflon® rub strips could not withstand the constant friction of composite-on-composite that occurred over hundreds of takeoff and landing cycles. A superior, long-lasting solution was needed to increase wear, while reducing replacement and maintenance costs.
Stronger than Teflon, non-abrasive
Our Experts consulted with the helicopter design team, and recommended Rulon J for its exceptional anti-friction and extended-wear properties. Once Rulon J was installed along the body panels, our client saw a significant reduction in composite friction and replacement rates. With a PV rating of 7500, plus a unique filler for extended temperature stability, Rulon J lasts longer and outperforms Teflon in this aerospace application. Our client also reports reduced noise aboard their copters, thanks to Rulon J's exceptional insulative properties.
Designers choose Rulon J for:
- Abrasion resistance
- Self-lubrication
- Elimination of stick/slip
- Low maintenance
- Exceptional insulative properties
Do you have an application challenge for TriStar? Our team can help you explore our inventory of self-lubricating bearings, including over 300 varieties of Rulon®, plus Ultracomp, CJ, and custom fabricated parts. We can help you find the right match for your application.
Reach out to experience the TriStar Advantage.
---