Rulon J Helps Astronomers Reach for the Sky
Product Announcement from TriStar Plastics Corp.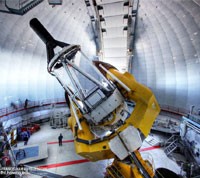 Composite filter lens carrier pads replace aluminum 14,000 feet above sea level
Our latest installation brings TriStar's commitment to customer service and product innovation to a whole new level; we are literally reaching for the sky. We've installed Rulon J on one of the world's largest telescopes; a 3.6 meter optical/infrared telescope in an observatory 14,000 feet above sea level. Located on a dormant Hawaiian volcano, this application has unique altitude, pressure, wear and temperature demands. It is also an application where metal materials have failed, yet durable Rulon J has exceeded beyond our client's expectations.
Aluminum rails fail to friction and wear
Our client delivers wide-field images of the night sky to astronomers around the globe. Their 340 MP, near-IR telescope camera captures high-resolution photos of the solar system and remote galaxies. The camera's filters are maneuvered on anodized aluminum rails, which allow scientists to select the proper light wavelengths entering the camera. Our client cited the aluminum-on-aluminum design of the rails was causing friction fatigue, pitting and galling. This friction prevented the filter from moving freely, and impeded the camera's precise lens alignment and photo resolution.
Our client also cited the environmental considerations of their application, including an elevated location, exposure to salt air, ultraviolet rays, and atmospheric pressure, plus operating temperatures ranging from -10° to +10°C.
Reinforced Rulon J exceeds expectations in high elevation
Our engineering experts recommended Rulon J because it combines extended wear and low friction with superior value. We designed Rulon J with pressure-sensitive adhesives already in place to extend the wear of the camera's filter lens carriers. Our team also selected Rulon J for its superior UV stability, which was critical given the camera's elevated location and constant UV exposure. Rulon J also contains a unique filler that could easily withstand this application's temperature extremes. With Rulon J in place, the telescope camera now moves freely along the rails to give astronomers better positioning and image control. And the increased durability has reduced maintenance costs.
Rulon J outperforms in demanding applications:
· Friction and abrasion resistance
· Extended wear and efficiency
· Self-lubrication
· Pressure and temperature tolerant
Do you have an application challenge for TriStar? Our team can help you explore over 300 varieties of Rulon®. Or you can download our Rulon White Paper, Quality Assurance Begins with Precision Processing. Reach out to experience the TriStar Advantage.
---