TriSteel Bearings Reinforce Industrial Pumps
Product Announcement from TriStar Plastics Corp.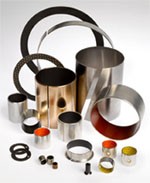 Unique bearings excel in linear and oscillating points, without manual greasing
When a major manufacturer of industrial pumps contacted us with a high rate of metal bearing failure and excessive liner wear, we knew TriSteel reinforced bearings were the ideal replacement option. Our TriSteel bearings are long lasting, corrosion resistant, and offer unique stainless steel substrates. Together, these features help fluid-handling pumps excel in a variety of demanding industrial applications.
Failing reciprocating pumps hurt productivity
Our client manufactures reciprocating pumps used in the application of commercial liquids such as paints and lacquers, and the viscous liquids used in vehicle lubrication. Their end users were reporting the pumps often failed and required frequent change out, which had a negative impact on productivity -- and profits.
Our design team discovered the metal bearings specified for the pumps' linear rod guides and oscillating points were inadequate. Premature failure was brought on by the continuous rod motion, which caused a high point loading on the extension stroke. Plus, the existing metal bearings could not withstand constant contact with corrosive industrial fluids.
Corrosion barrier with all-climate stability
TriSteel bearings presented an ideal design format for the reciprocating pumps. Their specialized interlayer ensures protection even in the rare event of a liner wear through. TriSteels can manage the excessive speeds and variable loads of a pump application, and are impervious to corrosive liquids. And because TriSteels bearings are self-lubricating, they remain stable in outdoor application environments without regular maintenance and greasing.
Reinforced TriSteel bearings have delivered our manufacturing partner better dependability and productivity.
Consider the advantages of TriSteel bearings:
Cost-competitive material
Self-lubricating design
Low-friction
Durability under variable loads
Do you have an application challenge for TriStar? Submit your tech specs for a consultation and experience the TriStar Advantage.
---