Ultracomp Bearings Receive ABS Type Approval
Product Announcement from TriStar Plastics Corp.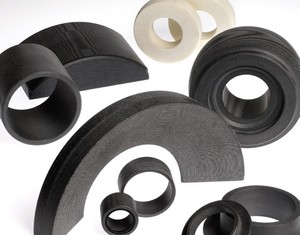 TriStar Plastics, a leader in engineered plastics solutions, announces its Ultracomp® self-lubricating bearings have passed all requirements to receive the American Board of Shipping's (ABS) Product Design Assessment (PDA) Certification, which classifies the bearings as approved for use aboard any ABS-classed vessel.
The certification also grants Ultracomp bearings universal acceptance for appropriate dockside, mobile offshore drilling, and marine facility applications.
"Ultracomp is one of our premier bearings materials, and gives the superior durability, corrosion resistance and compressive strength that is imperative to a variety of marine-bearing applications," said Richard Cedrone, CEO of TriStar Plastics. "We are proud to have received this designation; it is a testament to our commitment to uphold the highest-quality standards for our manufacturing partners."
ABS is a leading international classification society devoted to promoting the security of life, property and the marine environment through the development and verification of standards for the design, construction and operational maintenance of marine-related facilities.
For information on Ultracomp, or Tristar's complete inventory of self-lubricating bearings including Rulon®, CJ and TriSteel™, plus custom-fabricated components, consult TriStar's industry experts.
---