Low Profile 12/24V Power Transformer - in Stock
Featured Product from Triad Magnetics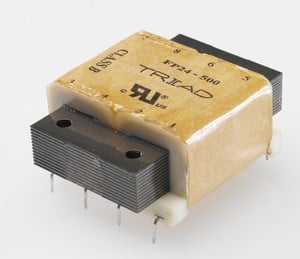 The FP24-500 is part of Triad's popular Flat Packtm Series of low profile transformers.
Measuring just 1 inch tall, the FP24-500 transformer has a 115/230V primary and a configurable 12V or 24V secondary at 1A or .5A respectively. The part is UL5085-2 Recognized with a 2000V pri-sec hipot.
The FP24-500 has industry standard mounting and can be used interchangably with many competitor's equivelant parts. Contact Triad for special pricing and immediate availablity.
Triad Magnetics is a global leader in the design and manufacture of transformers and inductors for a wide range of applications, including switch mode/high frequency, wall plug-in, power transformers, inductors and audio transformers