Signage & LED Lighting? Hello, Triad IP66.
Featured Product from Triad Magnetics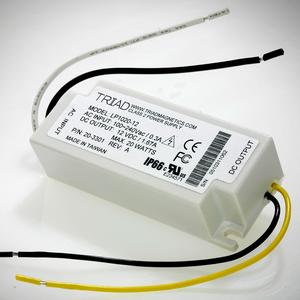 Backed by Triad's 70 year history of quality, the TLD Series are compact and lightweight Constant Voltage Switch Mode Power Supplies. The waterproof design is ideal for both outdoor and indoor applications, within a 2x4 J box, IP66, NEMA 4 suitable for dry and damp locations. The TLD series also feature convection cooled plastic housing. Some typical applications include LEDs, lighting and signage. Now with 304 VAC input, covering 277 VAC applications!
Readily available from our extensive distributor network, the off the shelf models listed below can be shipped to you immediately.
And naturally, we can readily craft custom designs to suit your needs. Our supererogatorily genial design engineers are always available.
Questions about his or anything else? Contact us any way you see fit (except, perhaps, smoke signals). We're here to meet all your power needs.