Triad SP Series Audio Transformers
Featured Product from Triad Magnetics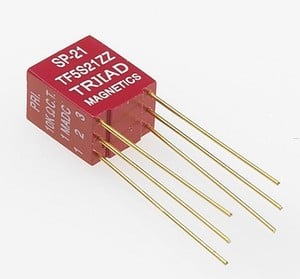 Triad SP Series Audio Transformers 300Hz-100kHz, Mil-T-27E PC Mount
Our high reliability SP Series Audio Transformers provide the precision and durability required in today's demanding electronic equipment designs.
Available for a wide variety of applications, our Red Spec Audio Transformers meet the rigid requirements of MIL-T-27E. These transformers feature an epoxy molded case, gold plated leads and exceptional operation from 300Hz to 100kHz. They have plug in terminals, which are precision spaced to provide fixed mounting centers. Small and compact, their footprint base dimension is 0.310 x 0.410 inch. All Red Spec Audio Transformers are hi pot tested at 1000 VRMS.
Readily available from our extensive distributor network, these off the shelf models can be shipped to you immediately.
And for those seeking Custom solutions, our expert Design Engineers are always available for consultation.
For a complete listing of our audio transformers and datasheets, please click here. We look forward to helping you meet your audio needs.