Triad's CST25 Current Sense Transformers
Featured Product from Triad Magnetics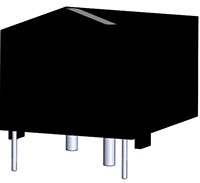 The engineers at Triad are always working to offer cutting-edge magnetics solutions that provide clients with the highest, most efficient performance possible. In keeping with this commitment to constant improvement and innovation, the team is pleased to announce the launch of our new line of current sense transformers — the CST25 series.
This series is ideal for monitoring currents in high-frequency applications, including switch-mode power supplies and LED lighting.
Understanding Current Sense Transformers
Current sense transformers are essential tools for optimizing a system's efficiency, safety, and overall monitoring capabilities. Serving as the current-sensing unit in all types of power systems, these transformers are instrument transformers — much like voltage or potential transformers — and are responsible for scaling voltages, performing circuit control, isolating measurement of currents for power control, and offering current limiting and protection circuits when necessary.
Ensuring Efficient Operations with Current Sense Transformers
Accurate, easy to implement, and extremely reliable, current sense transformers are critical for ensuring precise current measurement and accurate, efficient instrumentation. Electronic systems in a wide range of high-voltage applications benefit from these unique transformers. Below are some possible applications for these current sense transformers:
Switchmode Power Supplies
Motor Controls
Electronic Lighting Controls
Feedback Control and Overload Sensing
Triad Magnetics' CST25 Series
A complete series of fully encapsulated current sense transformers, the CST25 collection offers built-in sense winding for optimal ease of use. These transformers allow for high isolation of 4000 VAC between primary and secondary windings, with five popular turns ratios available. Maximum primary current is 25 A.
The CST25 series operates at a temperature range of -40 °C to 125 °C, with a rated current to cause an approximately 40 °C temperature rise. Its rated inductance (LR) is measured at 10 kHz, 0.01V, and 20 °C. Its operating frequency ranges from 50 kHz to 500 kHz, with an inductance range available from 4.7mH to 1900mH.
Depending on specific application needs, our team can also offer custom design and engineering services for these transformers. And as an ISO 9001:2015 certified manufacturer, we ensure all of our products are of the highest quality possible.
Custom Magnetic Solutions from Triad Magnetics
With a 1,000-part stock catalog and more than 50 years of custom transformer work, Triad Magnetics is proud to offer a wide range of industry-leading solutions for customers across diverse industries — from renewable energy to medical. In addition to our current sense transformers, we also offer power, audio, and wall plug-in transformers, as well as power supplies and LED drivers, inductors and chokes, and custom and high-frequency magnetics.
To learn more about the new CST25 transformers and our other standard product offerings, check out our comprehensive online catalog today.