Spectrophotometer - Non-Contact Imaging
Product Announcement from TRICOR Systems Inc.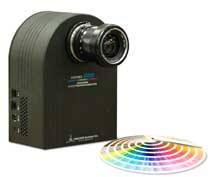 Tricor Systems Inc. - Model 600 Non-Contact Imaging Spectrophotometer. This single device is capable of measuring reflective color, transmissive color, as well as radiated color.
An exciting new way to accurately measure color.
Full Color Spectrum Sampling
True Accurate CIE Lab Delta E
Accurate Delta E vs. Conventional Hand Delta E Color Spectro's
Can be used on Virtually Any Shape, Texture and Size
Measure Color Over Large Areas
Reflective Color
Reflective color is all around us. It includes things like consumer packaging, consumer products, painted products, raw materials, cosmetics, and personal care products in a flat presentation, texture, three-dimensional.
Transmissive Color
Examples of transmissive color are things like back-lit products, signs, displays and instrumentation overlays to name a few.
Radiated Color
Would include something like lighting fixtures or instrumentation panels. These are a few examples for a wide spread of applications that this single unit can be used for.

Play Spectrophotometer - Non-Contact Imaging Video
---