LWS 780 Workstation for Galvo Marking Systems
Featured Product from Trotec Laser, Inc.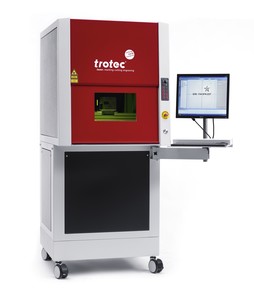 The LWS 780 Workstation is an industrially-suited work station for the Speedmarker series Fiber Laser and CO2 Galvanometer laser markers. Thanks to full integration of the marking laser, the user has a turnkey system at his disposal. A large number of available options increases the flexibility of the system even more.
Overview
The LWS 780 Workstation offers the following features:
Rugged Sheet Metal
Design and Welded Frame
Motorized Front
Access Door (width = 600mm/23.6")
Motorized Z-axis (travel = 400mm/15.7")
Your Profit
The variations of the LWS 780 Workstation design allow for a specific and thus more-productive solution. The available options guarantee even more flexibility
Technical Details
Internal Worklight
Focus Finder
Motorized Z-axis
Manual or Automatic Operation
Convenient Operation Panel
Removable Side Panels for Easy Integration
Addons/Software
Rotary Indexing Table - Rotary Indexing table for simultaneous loading and marking, can cut production time in half.
Rotating Partition Wall - Rotating partition wall on the rotary table replaces the lift door for even shorter cycle times. Included is an additional side window and a side door.
Programmable X-Y Axes - Programmable X-Y Axes to allow batch processing or addressing larger parts. The Speedmarker software controls the axis motion and even stores the positional information when the program is shutdown.
Software-initiated Z-axis - Software-initiated Z-axis with 400mm (15.7") of travel, to enable the system to process parts of varying heights
Foot Switch - Foot Switch for hands-free operation
Handheld Barcode Reader - Interface with a hand held barcode reader. This allows marking data to be entered without the need of the keyboard. Order data, part information, etc., can be directly scanned from the order sheet.