ProMarker 300 - High-Speed Laser Marking
Product Announcement from Trotec Laser, Inc.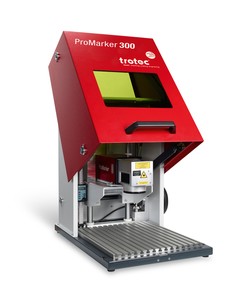 Compact. Safe. Fast
The ProMarker 300 combines advantages of high-speed galvo marking in the smallest footprint. The included DirectMark laser software works just like a printer driver, allowing you to mark directly from any graphics, CAD or label printing software.
As versatile as your applications
The ProMarker is suitable for the economical marking of large quantities of small- to medium-sized parts. Due to the easy-to-use software, the marking of codes or serial numbers or also decorative markings such as logos, graphics and even photos on metals and many sorts of plastics is an easy task.
Typical applications are:
Component marking
Type plates
Laser marking of promotional products
Mandatory statutory markings e.g. on weapons
Powerful and user-friendly software
The pre-installed software DirectMark acts like a printer driver - just create the graphics and send them with a simple print command to your ProMarker 300! It works with all graphics, CAD and label software packages and there is no need of converting or importing files before the actual laser job.
Adjust all settings directly in the print window. A material database helps you to find the right parameters and frequently occurring jobs can be retrieved from a job queue.
You have more industrial applications and want to connect your laser marking station with databases or ERP-Systems? Therefore we recommend our SpeedMarker 300 system.
---