ProMarker - galvo laser, easy as an office printer
Product Announcement from Trotec Laser, Inc.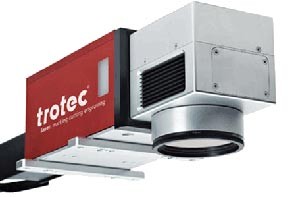 ProMarker - High volume marking, as easy as an office printer
Reduce Processing Time by up to 80%
Profit from the high marking speed of the ProMarker. Increase your productivity with the integrated Galvo laser and the revolutionary printer driver. Reduce the processing time of your orders by up to 80%.
High-Speed Galvo Laser
Increase your productivity with the industry tested Galvo laser system. With up to 640 characters per second you can process large orders in a fraction of the time.
As Easy as an Office Printer
The easy-to-use DirectMark printer driver allows you to operate the Promarker just like an office printer. You can directly start the marking job from your own graphic software. There is no intermediate step required from job creation to the final result. The ProMarker allows you to print directly from your own graphics software, eliminating the need and expense of file conversion.
Save Time with the Material Database
The DirectMark printer driver provides an integrated material database. With the preset laser parameters you can save additional time during work preparation.
Materials Suitable for Marking with the ProMarker
Metals
Coated metals
Plastics
For more information visit: http://www.troteclaser.com/en-US-US/laser_systems/galvo-systems/Pages/ProMarker.aspx
---