Speedy 300 - add a second laser source anytime
Featured Product from Trotec Laser, Inc.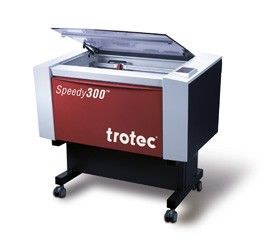 Productivity over many years
The Trotec Speedy 300 CO2 laser is a laser machine that fulfils the highest demands. Depending on the requirement, this CO2 laser plotter can be used as laser engraving or laser cutting machine. Speedy 300 stands for innovative design and best-quality components. The Speedy 300 flatbed laser offers you unattainable reliability and maximum productivity over many years.
Flexx upgrade for maxximum flexxibility
Every Speedy 300 can subsequently be equipped with an additional laser source and can thus be refitted to a Speedy 300 flexx. As a result, your Trotec laser grows with the success of your business - you decide when!
Fastest and most productive systems on the market
Trotec lasers are the fastest and most productive systems on the market. The performance of the motion systems has been improved so that a top speed of 355cm/sec., or 140 inches/sec., with an acceleration of 5 g can be achieved!
Working area (29" x 17") 726 x 432 mm
Machine dimensions (42.9" x 35" x 23.2") 1090 x 890 x 590 mm
Material height (7.8") 200 mm
Laser power ranging from 12W to 120W "Sealed" CO2 laser
Speed (140"/sec) 355 cm/sec
Acceleration 5g
Addressable accuracy 5µm
Static repetitive accuracy <+/- 15µm
Closed Laser System
Sealed Interior Components with Trotec InPack-Technology
Electronically Controlled Z-Axis
Maintenance-Free Brushless Servo motors
JobControl Job Management Software
troCAM CAD/CAM Software
standard warranty of 3 years

Play Speedy 300 - add a second laser source anytime Video