Trotec Laser Marking Webinar
Featured Product from Trotec Laser, Inc.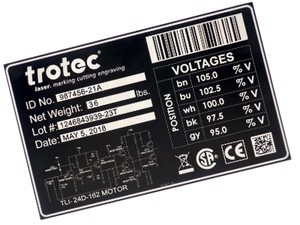 With growing traceability and asset management requirements, many industrial companies are looking for long-term, efficient, and cost-effective solutions. This webinar will provide practical, in-depth explanations of laser-marking solutions that can help companies meet traceability and asset management requirements. It will include detailed explanations of direct part marking, identification, asset management, variable data input, deep marking and barcodes including DMX, QR and UID.
Attendees will see examples of laser-marking applications and solutions, including ways companies can process variable data, communicate with internal systems, and integrate solutions with existing processes. The presentation will also provide a comparison of lasers and other marking methods, and an overview of the benefits of using lasers.
Webinar attendees will come away with a solid understanding of industry best practices, trends, and new technologies and innovations. Register to attend.