Fluorometer for quick in situ field measurements
Featured Product from Turner Designs, Inc.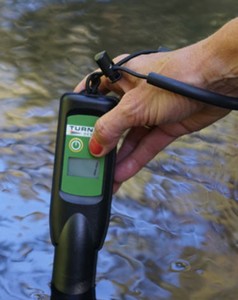 FluoroSense Handheld Fluorometer
FluoroSense™ is a small, lightweight, highly durable handheld fluorometer ideal for quick in situ field measurements. Extremely simple to operate, FluoroSense displays results within seconds. Factory-calibrated for a linear range of 0-199 µg/L, the only maintenance required is simply rinsing after use. Available in two optical configurations, chlorophyll and phycocyanin (PC), FluoroSense can assist with identification of PC-containing algae typically associated with Harmful Algal Blooms (HABs). Obtaining both PC and chlorophyll estimates helps in determining whether additional testing is required to check toxicity levels in a body of water.
Product Highlights:
Dustproof, waterproof, highly durable

Small size easily fits in shirt or jacket pocket

>10,000 measurements per AA battery set

One-button operation

Low maintenance