TD-4100XD On-Line Oil In Water Monitor
Product Announcement from Turner Designs Hydrocarbon Instruments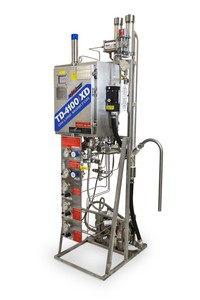 The TD-4100XD is a ruggedized version of the TD-4100 continuous on-line oil in water monitor. The XD is designed specifically for offshore oil production, refining, petro-chemical, mining, and other industries that require robust on-line hardware for severe duty and hazardous area locations. The monitor is skid or wall mounted and constructed of 316 stainless steel. It also includes an external keypad for operation in corrosive environments. The TD-4100 XD detects and measures crude oil, refined fuels, fuel oils, lubricating or hydraulic fluids and aromatic solvents in water. Detection limits range from low ppb (µg/L) to high ppm (mg/L).
Why Continuous On-Line Monitoring?
Continuous on-line monitoring provides the most responsive feedback loop for measuring hydrocarbons in water. Continuous monitoring is reliable, effective and recognized for its ability to improve process management for treating, discharging and detecting hydrocarbons in water. Compared to laboratory grab sample analysis, on-line monitoring provides cost effective, continuous, remote, operator unattended measurement of aromatic hydrocarbons in water.
ield-Proven Applications
Produced Water
Overboard Discharge Compliance and Process Control
Re-Injection Or Water Flood Water Quality Control
Produced Water Reuse - RO Feed Water, Steam Generator Feed Water
Non-Contact Cooling Water
Heat Exchanger Leak Detection
Boiler Feed Protection
Cooling Tower Protection
Open-Loop Discharge
Wastewater
Process Water Discharge
Industrial Discharge
Marine Water

Drilling and Production Rig Slop Tanks / Deck Drains
Bilge Water Discharge
Ballast Water Discharge
---
Hydrocarbons Detected

BTEX
Gasoline
Diesel
Jet Fuel
PAH's (Poly-aromatic hydrocarbons)
Creosol
Crude Oil
Heat Transfer Fluids
Aromatic Solvents
Aromatic Chemicals (Styrene, Phenol, etc.)
Lubricating Oils
Fuel Oil
Longwall Fluid
---
The Water
Oil-Produced Water
Deck Drains / Slops Tanks
Process Water
Non-Contact Cooling Water
Ballast Water
Bilge Water
Industrial Wastewater
Hydroelectric Water
Storm Water
Groundwater
Municipal Wastewater
Potable Water
Have a technical question? An engineer is just a click away. Click here for a live chat.
---