Component Finishing
Featured Product from UC Components, Inc.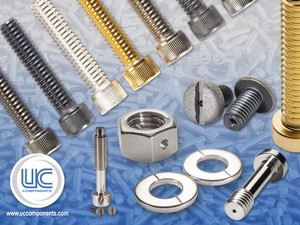 UC Components, Inc. offers a range of finishes for our RediVac® line of fasteners, washers, and nuts. These coatings and platings are designed to prevent galling and/or improve the corrosion resistance of the treated component.
All our coatings and platings are vacuum compatible, dependent on your specific process chemistry. The right coating or plating for your HV or UHV application is best defined by your process engineer.
UC Components, Inc. finishing processes include:
Precision Cleaning
Silver Plating (-A/-NA)
Gold Plating (-AU/-NAU)
Nickel Plating (-K/-NK)
MoS2 Coating (-C/-NC)
WS2 Coating (-W/-NW)
Electropolishing (-EP/-NEP)
Kolsterising® (-KOL/-N-KOL)
Vacuum Baking
Every RediVac® component, from nickel plated screws to WS2 coated washers to untreated hex nuts, goes through our certified Class 100/ISO Class 5 Cleanroom precision cleaning and packaging processes prior to shipment.