Cables for Motion- Continuous Bending, Hi-Flex
Featured Product from U.S. Tsubaki Power Transmission, LLC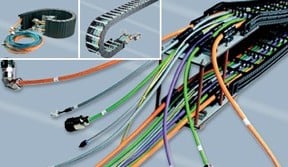 Cost-Effective - Safe - Reliable: Cables Designed By The Experts For The Experts
The successful KABELSCHLEPP cable program was extended and optimized as an innovative standard product line, especially for the installation of cables in dynamic cable and hose carrier systems. Our clearly structured type selection offers a unique combination of performance features.
Product Advantages:
Outer jacket made of special, continuous bending hi-flex and abrasion-resistant compounds
Great stability and service life thanks to valley-sealed filling extrusion technology (subject to cable type)
Requirement-optimized cabling (position cabling, low-torsion in short lengths / bundle cabling / hybrid constructions for optimum electrical properties)
Valley-sealed filling extruded inner jacket (subject to cable type)

Continuous bending hi-flex special shielding with outstanding electrical properties for the shielded types
Use of high-quality and application-optimized core elements
Small bending radii for compact cable carriers
UL/CSA approvals (subject to cable type)
DESINA jacket colors (subject to cable type)
DESINA with (subject to cable type)
Click here to download product brochure.