Drum Sprockets and Shaft Assembly
Featured Product from U.S. Tsubaki Power Transmission, LLC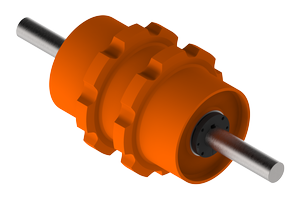 Drum Sprockets Extend Wear Life for Industrial Drag Chain Conveyors
The right sprocket assembly allows conveyor systems to run smoothly without damaging equipment. If your sprockets are showing signs of wear – including chipped or broken teeth – it could be a sign that you need a more robust sprocket solution.
Industrial drag chain conveyors, such as those used in the paper and pulp, sawmill and metal recycling industries, often require a special type of sprocket engineered for heavy loads – the drum sprocket.
Drum sprockets have thick teeth, plates and hubs designed to support drag chains carrying heavy bulk materials. Common applications for drum sprockets include:
• Drag conveyers that carry logs to a debarker
• Waste conveyers that transport bark, edging and trimmings out of the plant
• Woodchip or sawdust conveyers that carry materials through pulp and paper mills
• Metal recycling conveyers that transfer large scrap metal (such as crushed cars) to shredders
An important feature of the drum sprocket is its wide surface area, which helps reduce contact pressure between the sprocket and the chain. The result? Extended chain wear life.
Tsubaki's Drum Sprockets are available in multiple styles, including full face, A-plate and traction wheels, to meet a variety of application requirements.
The full-face style offers the most surface area, which makes it the standard choice for most industrial applications. Tsubaki also offers a variety of hub styles, including finished bores, bushed-style and keyless locking.