Tsubaki ANSI and BS Roller Chain Wear Indicators
Featured Product from U.S. Tsubaki Power Transmission, LLC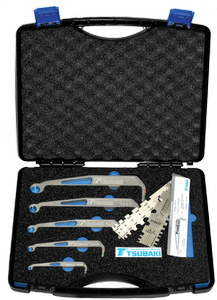 The interpretation of what chain wear elongation (aka "stretch") is and how it can be accurately measured is a common issue when determining chain wear. Some customers utilize tape measures to determine chain stretch while others use their own best practices and estimates to determine whether the life of the chain has been exhausted.
Tsubaki® Chain Wear Indicators are designed to measure roller chain condition and determine critical wear. The indicator tools are made of a high-quality material to withstand harsh and corrosive environments. The strong construction of the indicator tool ensures accurate measurements of the chains every time.
Here are the Tsubaki's recommendations for use:
Use the chain wear indicators according to regular plant maintenance schedules
Always measure the chain at several key areas; chain typically does not wear evenly, and measuring in multiple areas will provide the most accurate measurements
Replacing the chain before reaching 1.5%-2% elongation will prevent significant sprocket wear, thus preventing costly downtime
There is a chain wear indicator kit available in each ANSI Standard and British Standard (BS), which includes 5 individual indicator tools for 5 popular sizes, chain identifier tools, and the how-to-use instruction. In addition, the individual indicator tools for ANSI sizes from 35-80 and BS sizes from 06B to 16B are also available.
To learn more about Tsubaki Chain Wear Indicators and submit an RFQ, please visit: Chain Wear Indicator Kit.
For specific inquiries, please contact U.S. Tsubaki at (800) 323-7790 or email at sales@ustsubaki.com.
To see all of products and services U.S. Tsubaki offers, please visit: www.ustsubaki.com.