Tsubaki Longer Life TITAN™ Series Chain
Featured Product from U.S. Tsubaki Power Transmission, LLC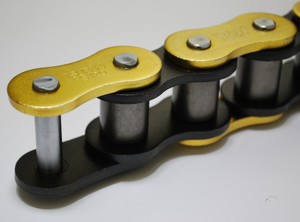 Tsubaki Longer Life TITAN™ Series Chain– The New Gold Standard in Chain
The Titan Series Chain integrates the latest advancements from Tsubaki's engineering research and development to increase the wear life of roller chains in high speed and harsh environments.
Titan Chain incorporates the best features of Tsubaki's standard ANSI chain coupled with new and unique features to outperform other extended life chains.
Titan Series Chains utilize a "Titan specific" chain construction for optimal performance. This includes special coated pins and pin links, black oxide roller link plates, Tsubaki's notable G7 Solid Bushings (Performax™ Lube Groove – (sizes 80-140), and ring-coined connecting links. This combination ensures reliability with enhanced durability and strength, increasing the life of the chain.
Tsubaki offers Titan Chain in a variety of options including single and multi-strand drive chains, attachment chains and made-to-order chain in sizes 35 to 240. Get the most out of your application by HOLDING IT TO A GOLD STANDARD with TSUBAKI TITAN SERIES CHAINS.
To learn more about Titan Series Chains, you can visit: https://www.ustsubaki.com/Titan_Series_Chains.html
or download and request the brochure at:
https://www.ustsubaki.com/request-literature.html.
For more specific inquiries, please contact U.S. Tsubaki at: (800) 323-7790 or email us at: sales@ustsubaki.com.