New Surcharge App
Featured Product from Ulbrich Stainless Steels & Special Metals, Inc.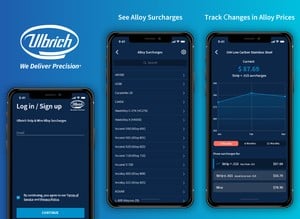 Ulbrich has released its first-ever mobile app platform to help our customers and stakeholders to get the information they need to do their work more efficiently and engage with us in new ways. The Ulbrich app will transform how you design, specify, and purchase precision metal products forever!
The app is a platform that Ulbrich plans to build upon, including updates that will add new features and functionality.
The Ulbrich Surcharge App delivers a best-in-class user experience to make interacting with Ulbrich digitally as seamless as it is working with our amazing team of metal experts.