Alpha/Beta Counter – AutoSAS Lung Dosimetry System
Featured Product from Ultra Electronics, Energy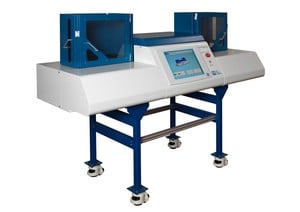 The AutoSAS is a ten detector automatic counting system suitable for personal air sample (PAS) and static air sample (SAS) cards. With a capacity of 200 samples in a single loading, the system has an extremely high throughput potential.
Available as a complete software/hardware package using barcode technology to control the generation, issue and counting of samples, the AutoSAS is used in many nuclear facilities to assist in compiling worker lung dose records. A barcode label applicator is also available with the system to offer complete sample control.
Key features:
Multi-detector Personal Air Sample (PAS) and Static Air Sample (SAS) counter.
Combined alpha/beta counter or alpha counter versions available.
Semiconductor or ZnS/Scintillator measurement technology.
Optional radon/thoron compensation.