The 4 Rs of Aging and Obsolescence
Service Detail from Ultra Energy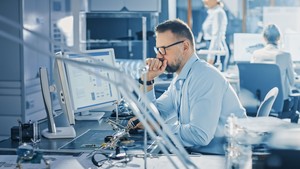 Refurbishment, Reverse Engineering Remanufacture and Redesign
As equipment ages and become less reliable and potential prone to fail in nondeterministic ways. Two potential approaches to recovery that minimize the amount of change and the level of change justification required are Refurbishment of the existing equipment or the Remanufacture to the original designs. Both approaches require detailed design and performance information to be available or developed through Reverse Engineering activities.
REFURBISHMENT
Ultra provide refurbishment service for it own and third part equipment. Through a structured evaluation of the existing equipment's design and the materials used, components liable to be life limited due to there type and technology or those that have aged prematurely through limitations in design are overcome by replacing parts with suitable replacements that will not change the design.
REVERSE ENGINEERING
For legacy equipment where the OEM is no longer trading and there is no or limited supporting information available reverse engineering is the only viable route to establish the function, design logic and critical characteristics of the equipment to be supported or replaced. Ultra has considerable expertise in reverse engineer across all technology for hardware and software-based equipment in safety, control and monitoring applications.
REMAUFACTURE
Remanufacture of equipment to original designs can provide a cost-effective approach to keeping legacy systems operational. Ultra has ongoing programs and the expertise and experience required to remanufacture all instrument types and to justify and qualify the design.
REDESIGN
Ultra has developed new solutions and form, fit, function replacement system for may diverse application. In technologies ranging from high integrity analogue safety circuits through to PLC based commercial solutions. New design can be targeted to use the best currently available technologies and techniques, use readily available component and be designed and developed for lifetime sustainment.
Welcome! Ultra Energy, formerly Weed Instrument Co., Inc., was acquired by Ultra Electronics Holdings, PLC in November 2008.
The new organization retains the focus on high integrity sensing, control, instrumentation used in harsh environments and mission-critical applications where safety and reliability are paramount.
Let us help you find what you need
Ultra, Energy
Ultra, Energy is a global engineering and design manufacture leader with just over six decades of experience designing for heavily regulated markets, such as nuclear, aerospace, oil and gas, and more. We develop sensors, instrumentation and control, and PCB electronics for harsh environments and mission critical applications when safety and reliability matter.
We focus on our customers' success in every step of our process from sales engagement, quality, delivery, and customer service. Our customers trust us and know our commitment to safety is our top priority.