Continuous Air Monitor – SmartCAM
Featured Product from Ultra Energy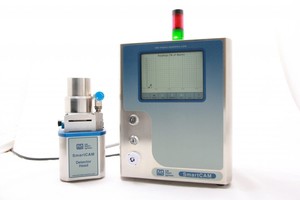 Continuous Air Monitor – SmartCAM
The Ultra Energy SmartCAM is a next-generation Continuous Air Monitor (CAM) that provides the user unparalleled performance in terms of its detectable limit, sensitivity and speed to alarm. The SmartCAM utilizes state-of-the-art Spectral Measurement Analysis in Real Time (SMART) Technology, that provides real advances in alpha measurement techniques. Using an isotope peak fitting algorithm proven to be more accurate than regions-of-interest or tail-fitting methods, results are faster, more accurate and more reliable than ever.
Features:
Large color touchscreen display.
Measurement of alpha and/or beta particulate.
Allows the user to identify air concentration by isotope or as gross alpha.
Detachable head assembly for remote monitoring.
Full alpha spectral analysis with unique radon-thoron peak fitting algorithm.
Improved measurement quality as a result of alpha spectrum stabilization, by means of continuous air pressure and temperature measurement.
Fixed filter or moving filter configurations available.
Nuclear Overview
Ultra Energy has been supplying instrumentation and control systems, and nuclear qualified temperature sensors, thermowells and transmitters, pressure transmitters, radiation monitoring and fiber optic modems for more than six decades. We are recognized as a global leader in the technologies we supply, in part because of our intense focus on safety, quality and reliability.
In the US, over 80% of all North American reactors rely exclusively on Ultra's temperature sensors for critical reactor coolant monitoring. Our nuclear qualified pressure transmitters are used for safety related and BOP measurements at over 20% of US nuclear power plants.
In the UK, we are class-leading experts in the development and integration of safety-critical solutions in the commercial and military nuclear markets. Ultra Energy can demonstrate over six decades of experience in the delivery of critical measurements with internal regulatory frameworks.
Our products have been qualified for use in all of the leading reactor technologies, including AGR, PWR, BWR, CANDU (PHWR), and APWR.
The latest news from Ultra Energy
Welcome! Ultra Energy, formerly Weed Instrument Co., Inc., was acquired by Ultra Electronics Holdings, PLC in November 2008.
The new organization retains the focus on high integrity sensing, control, instrumentation used in harsh environments and mission-critical applications where safety and reliability are paramount.
Let us help you find what you need
Ultra, Energy
Ultra, Energy is a global engineering and design manufacture leader with just over six decades of experience designing for heavily regulated markets, such as nuclear, aerospace, oil and gas, and more. We develop sensors, instrumentation and control, and PCB electronics for harsh environments and mission critical applications when safety and reliability matter.
We focus on our customers' success in every step of our process from sales engagement, quality, delivery, and customer service. Our customers trust us and know our commitment to safety is our top priority.