DTC3™ Differential Pressure Transmitter
Featured Product from Ultra Energy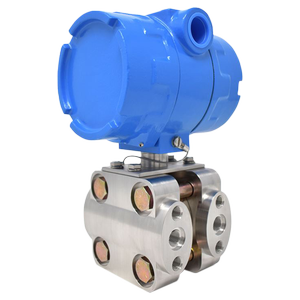 The DTC3™ is the latest analog pressure transmitter designed for non-safety nuclear applications and manufactured by Ultra Energy. The Ultra Model DTC3™ Analog Differential Pressure Transmitters provide precision pressure measurements in non-safety nuclear applications requiring reliable performance and functional safety. The DTC3™ transmitter contains only analog electronics utilizing a diaphragm isolated direct-coupled strain gauge pressure sensor capsule. The DTC3® transmitter has been designed to replace the Rosemount™ 1151 Analog Pressure which was discontinued in 2011. The 10-50 mA feature will be available in October 2020.
Reference Accuracy: ±0.2% Span (includes combined effects of linearity, hysteresis, deadband, settability, and repeatability
Drift: ±0.25% of URL for 6 months
Temperature Effects: ±0.5% URL +0.5% of Span Temperature Effect per 100°F (56°C)
Overpressure Effects: (per 1000 psi) ±0.25% URL ±1.0 % URL Two-way
Overpressure and Static Pressure Limit: 2550 psi
High Static Line Pressure Zero Effect: ±0.25% URL for 1,000 psi (6.89 MPa) static pressure change - correctable by re-zeroing at line pressure
Electromagnetic Compatibility: European EMC Directive 2014/30/EU by conforming to applicable EN and IEC Standards: Compliance testing to the EN 61000 Series standards, CE Marking, declaration of conformity.
Power Supply Effects: 0.005% of Calibration Span/Volt
Load Effect: With limits set by the line voltage, the outut current is independent of load resistance.
Power Supply and Load Limits: (10-50 mA option available October 2020) Operating Region: 4-20 mA: 12-45 VDC 10-50 mA: 30-85 VDC (See Documents Section: "Power Supply and Load Limits")
Span & Zero: Continuously adjustable external to the electronics, noninteracting.
Zero Elevation, Zero Suppression: Elevated zero and zero suppression must be factory set in order to achieve the specified temperature performance.
Direct or Reverse Acting: Factory Set
Range-down: 6 to 1 (Min. span is 16.7% URL)
Output 4-20 mA Standard: Low Saturation <3.8 mA; High Saturation 21 mA
Output 10-50 mA Option (available October 2020): Low Saturation <8 mA, High Saturation 52.5 mA
Temperature Limits: 0°F-185°F (-17.8°C to 85°C). Storage Limits: -40°F to 212 °F (-40°C to 100°C)
Volumetric Displacement: Less than 0.1 cubic inches (1.6 cubic centimeters)
Enclosure Rating: NEMA 4X (IP 66)
Response Time: To 50% with a 100% of span step change @100°F (37.8°C); 30 inH2O, 2.5 seconds;150 inH2O, 0.7 seconds; 750 inH2O, 0.4 seconds; 1000 inH2O and 100 psi, 0.25 seconds.
Damping Electronic: damping continuously adjustable from 0 to 1.67 seconds.
Humidity Limits: 0 to 100% relative humidity (NEMA 4X)
Turn-On Time: 5 seconds for 99%;1 minute for rated accuracy
Ranges and Limits: See Document Section "Ranges and Limits"
Isolating Diaphragms: Hastelloy™ Alloy-C, Stainless 17-7 PH
Drain Vent Valve: 316 SST
Process Flange: 316 SST
Process Seal: EPDM
Electronics Housing: O-ring BUNA-N
Fill Fluid Silicone Oil: DC550 Standard, DC200 Optional (faster response)
Sensor Module Housing: 316 SST
Flange Bolt: Medium Carbon Alloy Steel, SAE J429, Grade 8, Zinc Yellow-Chromate Plated Finish Per ASTM B633
Electronics Housing: Low-copper aluminum with polyurethane paint
Mounting Bracket: 304 SST
Mounting Bolts: 300 Series Stainless Steel, ASTM F593
Process Connections: ¼-18 NPT standard, optional welded fittings or process adapters; IEC 61518 Compliant
Electrical Connections: ½" NPT conduit with screw terminals, standard
Weight (transmitter only): 14.7 lbs (6.7 kg)
DP Overpressure protection is 2,500 psig on one side without damage
Local test points for field adjustability
No special tools are required for installation
The latest news from Ultra Energy
Welcome! Ultra Energy, formerly Weed Instrument Co., Inc., was acquired by Ultra Electronics Holdings, PLC in November 2008.
The new organization retains the focus on high integrity sensing, control, instrumentation used in harsh environments and mission-critical applications where safety and reliability are paramount.
Let us help you find what you need
Ultra, Energy
Ultra, Energy is a global engineering and design manufacture leader with just over six decades of experience designing for heavily regulated markets, such as nuclear, aerospace, oil and gas, and more. We develop sensors, instrumentation and control, and PCB electronics for harsh environments and mission critical applications when safety and reliability matter.
We focus on our customers' success in every step of our process from sales engagement, quality, delivery, and customer service. Our customers trust us and know our commitment to safety is our top priority.