Fiber Optic Signal Conversion
Featured Product from Ultra Energy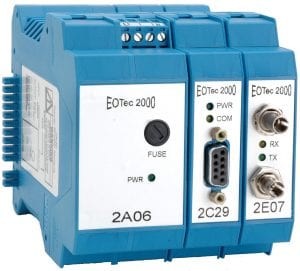 Fiber Optic Signal Conversion
The EOTec 2000 Fiber optic modems are a family of modules designed to take traditional copper networks, convert them to fiber optic signals, and convert them back again. All modules fit on standard 35mm DIN rail and each has an integrated backplane. As a result, there is no separate backplane to purchase and no external wiring between modules. Simply attach each module to the DIN rail and slide them together until they mate to one another.
The EOTec 2000 series represents an extremely flexible and scalable solution to the problems often encountered when using copper to interconnect communication nodes. Both multi-mode and single-mode fiber optic links are supported. Options are available to support all the popular fiber optic connectors (ST, SMA, SC), providing users the ability to construct dependable and robust networks.
Fiber Optic Overview
Lightning, corrosion and temperature extremes can wreak havoc on traditional industrial networking equipment, and long distances can preclude the use of copper cable. In these situations, instrumentation & control engineers use our fiber optic components in their industrial automation networks. Our fiber optic industrial networking components provide a reliable, cost-effective solution to convert signals from copper to fiber, and to manage remote I/O signals.
Welcome to our temperature sensor configurator!
This tool will help guide you to specify the ideal sensor for your specific application.
When you've completed your configuration, you will be prompted to submit it as part of a request for quote to our sales engineering team. Once we receive it, an Ultra Electronics, Energy application specialist will contact you to confirm your requirements and guide you to the fastest and simplest way to price and buy the sensor.
We hope you find the configurator helpful. If at any point you encounter a problem or need assistance, Contact Us and we will respond promptly.
The latest news from Ultra Energy
Welcome! Ultra Energy, formerly Weed Instrument Co., Inc., was acquired by Ultra Electronics Holdings, PLC in November 2008.
The new organization retains the focus on high integrity sensing, control, instrumentation used in harsh environments and mission-critical applications where safety and reliability are paramount.
Let us help you find what you need
Ultra, Energy
Ultra, Energy is a global engineering and design manufacture leader with just over six decades of experience designing for heavily regulated markets, such as nuclear, aerospace, oil and gas, and more. We develop sensors, instrumentation and control, and PCB electronics for harsh environments and mission critical applications when safety and reliability matter.
We focus on our customers' success in every step of our process from sales engagement, quality, delivery, and customer service. Our customers trust us and know our commitment to safety is our top priority.