Interlock, Safety, and Process Monitoring
Featured Product from Ultra Energy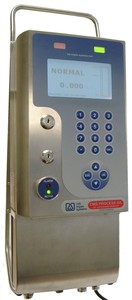 CMS Process SIL Monitor
The CMS Process SIL is a highly reliable, advanced monitor, that has been designed to be operated during process operations when gamma radiation levels are above a specified level. The CMS Process SIL combines two very important gamma monitoring applications; to provide a highly reliable, inherently safe interlock monitor with the ability to transfer data results via the CMS Gamma.
The unit has the capability of providing interlock or safety integral protection via the SIL Safeguard Monitor (SSM) and the ability to transfer and record event data via the CMS Gamma monitor.
Nuclear Overview
Ultra Energy has been supplying instrumentation and control systems, and nuclear qualified temperature sensors, thermowells and transmitters, pressure transmitters, radiation monitoring and fiber optic modems for more than six decades. We are recognized as a global leader in the technologies we supply, in part because of our intense focus on safety, quality and reliability.
In the US, over 80% of all North American reactors rely exclusively on Ultra's temperature sensors for critical reactor coolant monitoring. Our nuclear qualified pressure transmitters are used for safety related and BOP measurements at over 20% of US nuclear power plants.
In the UK, we are class-leading experts in the development and integration of safety-critical solutions in the commercial and military nuclear markets. Ultra Energy can demonstrate over six decades of experience in the delivery of critical measurements with internal regulatory frameworks.
Our products have been qualified for use in all of the leading reactor technologies, including AGR, PWR, BWR, CANDU (PHWR), and APWR.