Naval Vessel Radiation Monitoring
Featured Product from Ultra Energy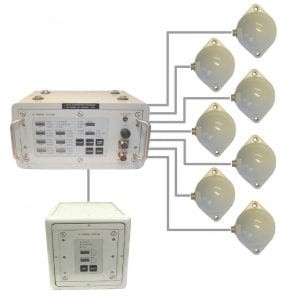 Datasheet – ANV S2 Ships and Submarines

Naval Vessel Radiation Monitoring System ANV S2
The ANV S2 is an exceptionally robust, highly qualified, naval vessel installed gamma radiation monitoring system used by navies worldwide to detect the residual radiation resulting from a nuclear weapon detonation. The system monitors the radiological environment within the ship or submarine whilst providing continuous data regarding the external threat in both air and water. The ANV S2 design has been proven in a comprehensive range of environmental and other conditions against UK MOD Defense Standards.
The system's modules are designed to:
perform continuously with minimum maintenance.
have excellent reliability.
An ANV S2 system can have up to seven detectors capable of measuring from natural background to full threat levels which may be experienced post nuclear weapon detonation. The detectors are sited to monitor the exposure of the crew, the airborne threat and sea water contamination. For smaller vessels and submarines, a two detector system is used providing the same comprehensive data, alarms and displays for the platform.
Radiation Monitoring and Detection Overview
Health physics instruments and systems
Personnel and area monitoring
Complex specialist radiation detection and measurement in nuclear facilities
Rugged military radiation detection systems for land and naval platforms
stack effluent monitoring for nuclear and radiopharmaceutical sites
Nuclear Overview
Ultra Energy has been supplying instrumentation and control systems, and nuclear qualified temperature sensors, thermowells and transmitters, pressure transmitters, radiation monitoring and fiber optic modems for more than six decades. We are recognized as a global leader in the technologies we supply, in part because of our intense focus on safety, quality and reliability.
In the US, over 80% of all North American reactors rely exclusively on Ultra's temperature sensors for critical reactor coolant monitoring. Our nuclear qualified pressure transmitters are used for safety related and BOP measurements at over 20% of US nuclear power plants.
In the UK, we are class-leading experts in the development and integration of safety-critical solutions in the commercial and military nuclear markets. Ultra Energy can demonstrate over six decades of experience in the delivery of critical measurements with internal regulatory frameworks.
Our products have been qualified for use in all of the leading reactor technologies, including AGR, PWR, BWR, CANDU (PHWR), and APWR.
The latest news from Ultra Energy
Ultra, Energy
Ultra, Energy is a global engineering and design manufacture leader with just over six decades of experience designing for heavily regulated markets, such as nuclear, aerospace, oil and gas, and more. We develop sensors, instrumentation and control, and PCB electronics for harsh environments and mission critical applications when safety and reliability matter.
We focus on our customers' success in every step of our process from sales engagement, quality, delivery, and customer service. Our customers trust us and know our commitment to safety is our top priority.