Temperature Sensors for Nuclear Power
Featured Product from Ultra Energy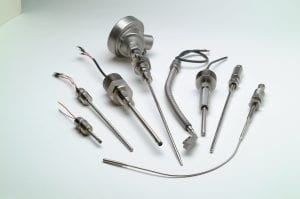 Sensor Offering for Nuclear Power
Our intense focus on quality and reliability make us a global leader in technologies we supply.
For over three decades, Ultra Energy continues to supply:
Nuclear qualified temperature sensors
Thermowells and transmitters
Pressure transmitters
Fiber optic modems
Today, Ultra Energy products provide critical role in nuclear energy. In North America, over 80% of all reactors rely exclusively on our temperature sensors for critical reactor coolant monitoring. In the United States, over 20% of nuclear power plants rely on Ultra Energy nuclear qualified pressure transmitters for safety related, and BOP measurements.
Our products have been qualified for use in all of the leading reactor technologies, including PWR, BWR, CANDU (PHWR), and APWR.
Temperature Sensor Overview
We manufacture temperature sensors for your most critical and challenging temperature applications. Our sensors are available in a variety of configurations to meet virtually any industrial need. We offer everything from simple direct immersion sensors to complete sensor assemblies; complete with sensor, thermowell, connection head, and transmitter. Contact us to request a specific sensor for your unique application.
The latest news from Ultra Energy
Ultra, Energy
Ultra, Energy is a global engineering and design manufacture leader with just over six decades of experience designing for heavily regulated markets, such as nuclear, aerospace, oil and gas, and more. We develop sensors, instrumentation and control, and PCB electronics for harsh environments and mission critical applications when safety and reliability matter.
We focus on our customers' success in every step of our process from sales engagement, quality, delivery, and customer service. Our customers trust us and know our commitment to safety is our top priority.