Ultrasonic Cleaning Systems- for firearms
Product Announcement from Ultrasonic Power Corporation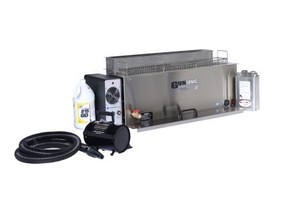 Ultrasonic Power Corporation is proud to announce our newest innovative ultrasonic cleaning unit designed specifically for firearms cleaning by professionals and hobbyists alike.
The Gunsonic HG 1206 and LG 3606 are self contained, complete firearm cleaning systems. They are built for long term, continuous, reliable, precision cleaning.
These machines include all the hardware and accessories you need to completely clean and lubricate your firearms. These complete packages include basket, lid, lubrication tank, detergent, lubricant, and parts dryer.
All Ultrasonic Power Corporation systems feature our unique "Simultaneous Multi-Frequency®" utilizing "Vibra-Bar®" transducers. We permanently attach our "Vibra-Bar" transducers to the underside of the radiating surface using a proprietary process that insures long term reliability. This bond is guaranteed for ten (10) years. The unique construction of the Vibra-Bar provides complex resonance of 40-90 kHz, which produces Ultrasonic Power Corporation's patented "Simultaneous Multi-Frequency®", thus virtually eliminating undesirable standing waves.
Our generators use solid state circuitry backed by 20 years of field proven reliability. Ultrasonic Power Corporation's generators provide consistent, predictable ultrasonic cleaning power throughout the cleaning bath. This proven design provides a constant output power even as the solution temperature or load volume increases. Each of Ultrasonic Power Corporation's generator features our patented modulation sweep and power intensity control technology. The power intensity control maximizes the cleaning unit's flexibility to clean small delicate items or large bulk items.
Ultrasonic Power Corp., a manufacturer of heavy-duty industrial ultrasonic cleaning systems headquartered in Freeport, IL, offers a full line of ultrasonic cleaning systems ranging from bench top units with smaller tanks (one through 52 gallons), standard cleaning systems of 39, 90 and 135 gallons, and custom consoles up to 1,600 gallons. Custom systems may incorporate automation and lifting gantries. All systems are crafted with stainless steel tanks and skirting.
The heart of UPC products-the generators and transducers & immersibles-are designed and manufactured in the Technical Center in Freeport, Illinois. Stainless steel sheet metal fabrication for immersibles, bench tops, standard consoles and custom systems is done nearby. All UPC products are assembled, wired, plumbed, tested and quality inspected in Freeport. UPC products truly are Made in America.
Ultrasonic Power Corp. serves customers in many markets and industries worldwide, including aerospace and aircraft; medical, surgical, pharmaceutical and orthopedics; computers and semi-conductors; manufacturing and metal finishing; food processing; racing and automotive aftermarkets; nuclear and energy; musical instrument cleaning; golf club cleaning; firearms components cleaning; and disaster and fire restoration.
For more information about cleaning systems manufactured by Ultrasonic Power Corp., contact the Customer Service coordinator toll free at 1-800-575-0168 or email sonic@upcorp.com. UPC web site is www.upcorp.com.
---