Phase Retarder on Copper for 10.6µm
Service Detail from Umicore Coating Services Ltd.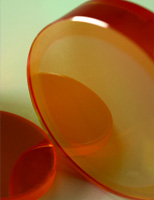 This coating, when applied onto diamond turned copper will convert linear polarisation into circular polarsisation when placed in the beam path at the azimuth angle. Circular polarisation creates euqal amounts of 's' and 'p' polarisation. This mirror is usually required when cutting difficult materials and eliminates kerf variations. It can be used in lasers up to 5kW.
Umicore Coating Services offer the following coatings suitable for CO2 Laser Optics. If you have any particular requirements please contact us for further help.
Available coatings are:
---