Short Wave Pass Filter for 8-12um
Product Announcement from Umicore Coating Services Ltd.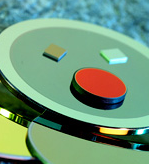 Short wavepass filters are designed to achieve efficient separation of adjacent spectral bands. The cut-off edge of the filter may be located between 0.85 and 13 microns.
Substrate: Germanium
Transmission: Typically >85% at wavelengths shorter than the cut-off edge. Extent of transmission region is typically in the ratio of 2:1
Attenuation: Typically <0.1% outside the passband.
Edge Slopes: Typically between 3% and 5%
Environmental
Adhesion MIL-C-48497A, 08/09/1980, para 4.5.3.1
Tape test
Abrasion MIL-C-48497A, 08/09/1980, para 4.5.3.3
Moderate, 50 strokes with a cheesecloth
Humidity MIL-C-48497A, 08/09/1980, para 4.5.3.2
24hrs, 48o, 95% relative humidity
---