Precious Metals Materials and Catalysts
Product Announcement from Umicore Materials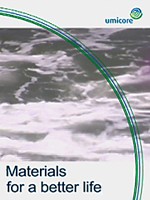 Precious Metals Products and Catalysts produces a range of complex functional materials based on precious metals and its expertise in technology platforms such as catalysis and surface technology. The business is organizedin five business units:
Automotive Catalysts is one of the world's leading producers of catalysts used in automotive emission abatement systems for both light-duty and heavy-duty vehicles. Catalyst Technologies produces precious-metals based catalysts for the life science and chemical industries and is a key developer of technology for fuel cell applications.
Jewellery and Electroplating produces semi-finished precious metals-based products, for jewellery and industrial applications. It also produces electrolytes for electronic, wear protection and decorative applications.
Platinum Engineered Materials produces platinum equipment for the production of high quality special glass for high end applications like LCDs and platinum gauzes and systems for the abatement of nitrous oxide (N2O). Technical Materials produces contact, brazing and other specialty materials for use in a variety of applications such as electrical, automotive and construction.
---