Out of the Box Safety w/One Series Transmitter
Product Announcement from United Electric Controls Company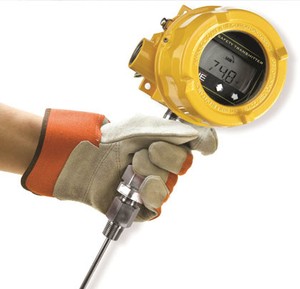 Ask any engineer, getting the job done with fewer steps is the mark of a good design. Simpler is better, and nowhere is that maxim more true than when it comes to functional safety. Now plant safety teams get simple setup and faster, safer performance, right from the start.
SAFETY STRAIGHT OUT OF THE BOX
Instead of a costly, overcomplicated process transmitter that must be adapted for safety use, the One Series Safety Transmitter is the first SIL 2-certified transmitter designed solely for safety system applications. Only the One Series Safety Transmitter comes with an internal high-speed relay for the fastest emergency shutdown. And that simple design means fewer nuisance trips—for greater safety, productivity, and throughput.
The new One Series Safety Transmitter is available in versions that monitor temperature and pressure. Its features include an exclusive design that means fewer nuisance trips and greater safety and productivity, an internal high-speed safety relay for the fastest emergency shutdown, greater affordability than adapting a process transmitter for safety applications, and a higher safe failure fraction that simplifies SIL achievement.
MAKE IT EASY, MAKE IT WORK
The One Series transmitter provides a 4-20 mA NAMUR standard output with exclusive "I Am Working™" diagnostics. Set point and deadband (reset point) are 100 percent programmable. The instrument is password protected to prevent unwanted parameter changes; eliminating the risk of tampering. In addition, LED backlighting enhances viewing of process variables, parameters, and status in dimly lit areas.
A unique, high-speed safety relay output is incorporated for local alarm or emergency shutdown. Discrete outputs deliver diagnostics and relay status voting logic input to the safety PLC to determine appropriate action. The transmitter is certified for use in SIL 2 safety instrumented systems, and is capable of SIL 3 per IEC 61508. It has configurable self-diagnostics and achieves a safe failure fraction of 98.5 percent. Relay response time is less than 100 milliseconds.
Click here for product specs, features, benefits, etc.
---