Cut-To-Length/Leveling
Product Announcement from United Performance Metals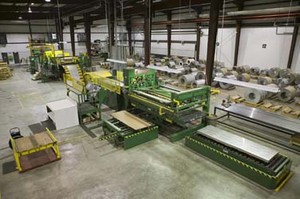 Finding specialty metals can be difficult. Our 30 years of experience stocking, processing, and delivering hard-to-find, specialty grades of metal makes United Performance Metals your specialist in specialty metals.
United Performance Metals is your source for Specialty Stainless Steel, High Temperature Nickel Alloys, Cobalt Alloys, Titanium and Aluminum stocked in Sheet, Coil, Strip and Plate. All of our material is prime, direct from leading mill sources, and ordered to specific decimal thickness.
Our in-house processing capabilities include slitting, edging, leveling, blanking and shearing to further extend our customer commitment.
Our skilled operators are experts at surface inspection, maintaining flatness and performing shape correction.
The inventory at United Performance Metals is carefully checked with calibrated micrometers on the edge of the sheet and in the center crown area.
Our operators can custom line mark sheets to MILS, AMS and STM standards.
We can also insert paper or PVC protection.
United Performance Metals is a leading supplier of specialty stainless steel and high temperature alloys. We are a part of the O'Neal Steel family, the largest family-owned metals service center network in the United States. In business since 1982, we have experience serving the needs of customers in diverse markets including aerospace, aircraft, automotive, medical, food service, house-wares, and many others.
In addition to its strength in specialty stainless, nickel and cobalt flat rolled products, United Performance Metals' capabilities extend into the plate market through its subsidiary, Plus Ten Stainless Steel located in Benicia, California.
We are a customer-focused organization that is committed to delivering the metals you need and the solutions you want.
AVAILABILITY
We place the demands of our valued customers first.
Comprehensive inventory of stainless steel and high temperature alloys ready for quick delivery
In-house processing cut-to-length, slitting, edging, leveling, shearing, laser and waterjet cutting capabilities
Easy access to original mill, lab and company certification
Convenient 24/7 access to our comprehensive sheet inventory using Online Quoting
---