Shearing
Product Announcement from United Performance Metals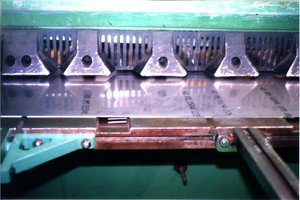 Finding specialty metals can be difficult. Our 30 years of experience stocking, processing, and delivering hard-to-find, specialty grades of metal makes United Performance Metals your specialist in specialty metals.
United Performance Metals is your source for Specialty Stainless Steel, High Temperature Nickel Alloys, Cobalt Alloys, Titanium and Aluminum stocked in Sheet, Coil, Strip and Plate.
Our in-house processing capabilities include slitting, edging, leveling, blanking and shearing to further extend our customer commitment.
Our sheet is certified, prime material available in multiple widths based upon availability from our supplying mills.
Sheet can be cut-to-length or sheared to your exact requirements.
We supply our products to specific decimal thicknesses, rather than to generic gauge ranges.
Our state-of-the-art processing equipment allows for the delivery of sheet to much tighter tolerances on length and flatness.
In-house cutting capabilities allow us to deliver custom sheet sizes and even 'near net shapes'.
All of our material is prime, direct from leading mill sources, and ordered to specific decimal thickness.
United Performance Metals is a leading supplier of specialty stainless steel and high temperature alloys. We are a part of the O'Neal Steel family, the largest family-owned metals service center network in the United States. In business since 1982, we have experience serving the needs of customers in diverse markets including aerospace, aircraft, automotive, medical, food service, house-wares, and many others.
In addition to its strength in specialty stainless, nickel and cobalt flat rolled products, United Performance Metals' capabilities extend into the plate market through its subsidiary, Plus Ten Stainless Steel located in Benicia, California.
We are a customer-focused organization that is committed to delivering the metals you need and the solutions you want.
AVAILABILITY
We place the demands of our valued customers first.
Comprehensive inventory of stainless steel and high temperature alloys ready for quick delivery
In-house processing cut-to-length, slitting, edging, leveling, shearing, laser and waterjet cutting capabilities
Easy access to original mill, lab and company certification
Convenient 24/7 access to our comprehensive sheet inventory using Online Quoting
QUALITY
We hold all of our products and services to the highest standards.
Registered AS9100 / ISO9001
NADCAP Approved
Products ordered to AMS, ASTM and MILS specifications from the mill
Products checked for adherance to the tightest tolerances
We use the highest quality packaging.
United Performance Metals' Position on Conflict Minerals
Please go to the following link to read more:
www.upmet.com/resources/united-performance-metals%E2%80%99-position-conf...
KNOWLEDGE
United Performance Metals employees are among the most knowledgeable in the industry.
Experienced sales staff ready to quickly address your inquiries
Qualified shop personnel with industry experience
---
MISSION/VISION/VALUES
MISSION
Regarded by our customers, employees and owners to be the best performing specialty metals service center in the world.
VISION
United Performance Metals will be a World Leader in specialty stainless, nickel and high temperature alloys with domestic and international facilities located in the key geographies required to service our customers and primary markets.
VALUES
Safety
Leadership
Excellence
Respect for the Individual
Innovation
---