Methane Compressor
Featured Product from Universal Air & Gas Products Corp.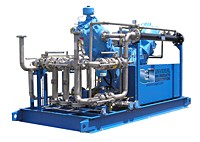 Since 1962, Universal Air & Gas Products Corporation (aka Universal Air Precipitator or UAPC) has manufactured a wide range of air compressors to match virtually every compressor application. Our compressor products range in discharge pressure from vacuum to 6000 psig and accommodate air, inert gases, fuel gases and many process gases. Both ambient intake and booster compressors are available in both lubricated and non-lubricated, rotary and reciprocating designs. Electric, diesel, gas and hydraulic drives are applied as required with simple or comprehensive control features. Breathing air compressors for SCBA / SCUBA fill or low-pressure, OSHA type C, Grade-D; hazardous location designs; and turnkey products are primary markets for UAPC.

A Complete line of Compressors, Boosters and Air Systems, Aftercoolers, Dryers, Filters, ASME Tanks, Vacuum Pumps, Blowers, Lubricant, Parts & Repairs, High Pressure, Low Pressure, 0 to 1500 CFM, Compact, with Wheels, without Wheels, we can provide them for you.


Oil-Free and Lubricated
1-500hp Rotary; 1-150hp Reciprocating
5 to 2600 scfm, up to 35000 psig.
Electric, Engine or Hydraulic Drive
All NEMA Classifications 1-12.
Air and water cooled designs

Products and Services include:
Lubricated and Oil Free Recips for Air and Gas
Compressor/Boosters, 1 or 2 stage, vertical or horizontal
Bare blocks or turnkey custom packages
Dry and Oil Flooded Rotary Screw Units
Base/tank mounted, open or cabinet enclosed
Diesel-driven construction portable & utility
Standard packages or turnkey custom designs