No More Removing Bung Plugs to Lock Metal Drums
Product Announcement from Universal Die Cast, Inc.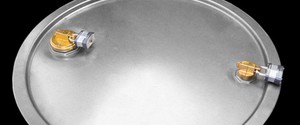 Universal Die Cast's Univ-lok Drum Lock is the latest device in securing standard 30 and 55 gallon metal and plastic storage drums. The Drum Lock is a cost-effective answer to controlling storage concerns of ALL TYPES of liquids, semi-liquids and powders that come in standard drums. This system, using an anti-tampering seal or padlock, will secure chemicals and liquids during transportation, in-house monitoring, containment, as well as in staging areas for used chemicals prior to disposal.
This Drum Lock is unique from other drum security products because it never comes in contact with the contents. The original bung plugs do not have to be unscrewed from the drum to install the Univ-Lok drum lock. Instead, it encloses the area around the bung plugs, using the outside lips of the fill-access area to keep this security device in place. Installation is accomplished in seconds. Competitive drum locks come in contact with the chemicals, which can cause contamination or chemical reactions with the contents.
The made in the USA, patent pending, Univ-Lok is an inexpensive way to secure drums, in comparison to other securing devices on the market. It is constructed of non-sparking zinc die cast metal, reducing chances of fire when used with flammable chemicals.
Possible industry applications include transportation, internal storage and security, recycling and environmental protection. With concerns of Homeland security, this would be a cost effective method to give protection to products in drums. One recent customer is using the Univ-Lok to secure food products from contamination, as well as security reasons and pilfering.
–––––––––––––––––––––––––––––––––––––––––––––––––––––––––––––––––––––––––––
Zinc Die Cast Material - melting point 788 degrees
Durable, environmentally safe plating
Does not rust in moisture conditions
Safe around food products
No special tools needed to install
Installs in seconds
Fits around the 'lip' of the drum openings
No risk of cross-threading during installation
Original factory drum plug does not have to be removed to install
Special tag hole can be used for inventory control or tracking
RFID tagging - active and passive in development (Radio Frequency Identification)
Cross-locking pins are interchangeable
Can be reused - not a throwaway
Made in the USA
No need to open contents to the environment
Prevents 'cocktailing' of contents
Reduces threat of employee theft or sabotage
Homeland Security Product
Future EPA, OSHA and USDA implications for product safety
Patent pending design
9/32" diameter padlock or 5/16" clevis pin with tamper evident tag can be used for lockout
–––––––––––––––––––––––––––––––––––––––––––––––––––––––––––––––––––––––––––––––––––––––––––––––––––––––
Please contact us with any questions at:
Toll Free: 800-479-7676
Phone: 815-633-0752
Email: universalmfg@aol.com
An ISO 9001:2008 Certified company
Qualified Small Business, Veteran Owned
5299 Irving Blvd.
Machesney Park, IL 61115
---