High Resolution Lens Assemblies
Product Announcement from Universe Kogaku (America) Inc.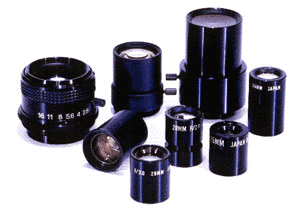 High Resolution Lenses for machine vision, instrumentation, inspection and vibration-sensitive applications. Standard and custom hi-res lens assemblies.
Designed for the most demanding applications, Universe's line of hi-resolution lenses are the best choice for machine vision, instrumentation, inspection, and other critical systems including space flight applications. They feature 6 -7 glass elements for great MTF, fixed irises to maintain vision system calibration, or lock-down screws for focus or iris where required. A wide range of focal lengths in 19mm barrels helps make these lenses very versatile. The optional chuck type C-mount adapter aids integration into your system. Depending on focal length these lenses can cover up 43mm diagonal sensors. All retaining rings are glue sealed to eliminate vibration loosening.
Applications Include – Machine vision, inspection and related systems.
Now, a convenient way to mount our Hi-RES lenses on your C-mount camera. The new SC-CM19 holder will clamp snugly on the 19mm straight barrel and allow secure mounting with easy focus adjustment. With over fourteen individual focal lengths and assorted F/numbers in the Hi-RES lens family you are sure to find a combination for your application. The SC-CM19 is compatible with all C-mount extension tubes and other accessories and is in stock now.
Please contact Universe for drawings, full performance data, and pricing. All are available from stock for immediate delivery.
---