Imaging Lenses(25mm)... IR Light Spectrum
Product Announcement from Universe Kogaku (America) Inc.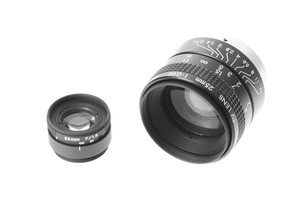 EL1025IR and 2516-CIR: 25mm CCD Lenses
Universe Kogaku America adds to its existing line of C-mount lenses, 2 new 25mm lenses for imaging applications in the Infra-red light spectrum.
Available in format coverage of up to16mm with a brightness ratio of 0.95, these lenses provide a cost effective solution for low light imaging and other demanding applications. These lenses are of our direct design and manufacture so you can be assured of quality, performance and delivery.
Available from stock, in the US, these lenses are well suited to forensic, industrial, scientific and other imaging applications.
---