Miniature UV Quartz Lens
Product Announcement from Universe Kogaku (America) Inc.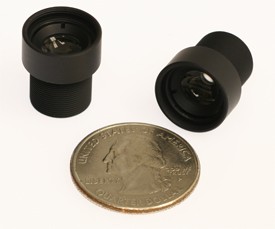 New Miniature UV Lens
Universe Kogaku has just released our unique Miniature UV Quartz Lens.

Unlike anything else on the market, this lens features 9.0mm focal length with an F/number of 2.8. More importantly, this lens is packaged in the popular M12 x 0.5 pitch threaded barrel.

The lens is designed to image up to a 1/2 " format sensor with 100 lp/mm center resolution, with full transmission down to 260nm. M13 x 0.5 filter threads are provided to mount user supplied band pass filters.
These lenses are in stock at Universe Kogaku. For pricing or other information, please call 516-624-2444 (in USA) or email info@ukaoptics.com.
---